"I've always sought out the
edges, the views, and a feeling
of expansiveness."

"I was once asked what I think
are the ten most important principles
that helped make me a successful
architect, planner, and educator...

(1) Think positively, not negatively.
(2) Accept structure but know that
it is to be questioned and broken
when necessary.
(3) Always be willing to explore,
experiment and invent. Do not
accept the status quo.
(4) Know yourself and keep your
work consistent with who you are
and how you think.
(5) Maintain good moral and social
values.
(6) Be humble, honest, compassionate,
and egalitarian.
(7) Have conviction about your work.
(8) Be open and say yes to most
ideas and requests. The good ones
will be valuable, the bad ones will
cease to exist.
(9) Allow employees and fellow
workers freedom and the ability
to work to their strengths. Avoid
hierarchy.
(10) Money should be the residual
of work, not the goal. But do not
compromise your worth."














Ron Kappe on his father:

"Ray is an architect's architect.
My father loves to do 3-dimensional
spatial problem solving. He will hold
a problem in his mind and work on it
very early in the morning, or be
absorbed in it while driving his car.
On an airplane, he has his note pad
and is continuously sketching ideas
for projects he has on his drawing
board. For his building designs,
his early sketches many times
come out quickly and the concepts
seem to be whole, integrating
structural and aesthetic concerns
seamlessly.

He has always had a fascination
for developing new building systems
and for determining how to incorporate technological advances into his work.
One example of this is the early
energy efficient designs he did in the embryonic days of the sustainable
design movement. Another example
was his early modular housing
designs, bringing scientific space
technology down to use on earth.

As an educator, my father will always
challenge his students to do things
they never thought they could do.
Sometimes this can be very scary
for students, but for those willing to
leap in with both feet, it has its
rewards."










Students at SCI-Arc:













































Herb Kahn Ray Kappe



Rex Lotery Clelio Boccato










Family: son Ron, daughter Karen,
Ray, wife Shelly, & son Finn


A TRIBUTE + RESOURCE

An internationally recognized architect, urban planner, and educator since 1953, Ray Kappe's much awarded and published work is considered to be an extension of the early Southern California master architects: Wright, Schindler, Neutra, and Harwell Hamilton Harris.
CONTACT:
Ray Kappe, Kappe Architects/Planners
715 Brooktree Rd., Pacific Palisades, CA 90272
Phone: 310.459.7791
Emails:
raykappe@kappearc.com
shellykappe@kappearc.com


Recent News

+ May 2015 article about how Ray Kappe used custom homes over a 60-year career to pioneer techniques for mass housing

+ November 2012 LA Curbed feature with 45 color photos

+ September 2012 Palisadian-Post article

+ October 2011 interview in The Architect's Newspaper.

+ Ray has a Spring 2011 feature in CA-Modern magazine.

+ Ray conducts a video tour of his own home in Pacific Palisades.

+ Ray is given the Lifetime Achievement Award in "Stars of Design 2009" at the Pacific Design Center in West Hollywood, California.


Designer of a Cultural Heritage Landmark

"Ray Kappe's 1967 house remains a landmark of nature-friendly modernism." — Brad Dunning, New York Times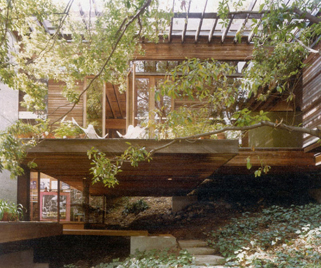 "Ray's own home may be the greatest house in all of Southern California." — Stephen Kanner, President,
A + D (Architecture + Design) Museum, Los Angeles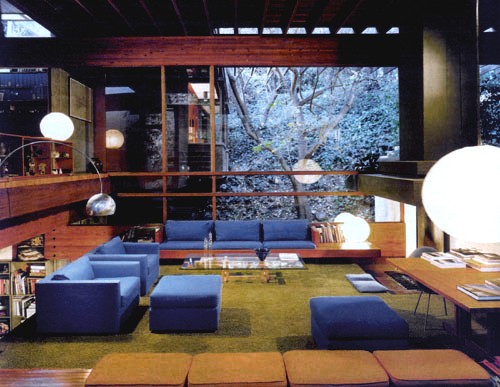 Kappe home:
Suspended levels (left), Step-down living room (above)


Reference books —

Themes & Variations: House Design Ray Kappe Architects/Planners

Brave New Houses: Adventures in Southern California Living

Modernism Rediscovered

GA (Global Architecture) Houses


Other links of interest —

2007 modular project Collaboration with son Finn, Project Manager

Ray Kappe designs one of "AIA Top Ten Green Projects 2007"

2006 modular project (1st LEED® Platinum Home)

"Curbed L.A." interview

Ray Kappe's life's work of drawings + models to be archived at the Getty Research Institute + secondary article

Slide show of a Pacific Palisades residence

Benton residence Collaboration with son Ron, Project Architect.
Home featured in:

- 2002 movie "One Hour Photo" starring Robin Williams

- 2007 TV show "Shark" starring James Woods

- 2007 TV show "Californication" starring David Duchovny

- An ad run during the Tour de France 2016

Frankel residence Collaboration with son Ron, Project Architect

Architecture + Design Museum, Los Angeles: Ray Kappe Retrospective


Excerpt from Residential Architect magazine's
2004 Leadership Awards article online —

Hall of Fame: Ray Kappe, FAIA
"Ray Kappe reinvented the house on the hill and architecture education as we know it... [He] is an enormously accomplished architect with a vast portfolio of diverse achievements. But after 50 years of enviable professional successes, there's one task he hasn't yet pulled off: He can't seem to fully retire. Well, you see, people keep knocking at his door with interesting projects in their pockets. There's a prefab community in the California desert and a Modern house in Mexico. And there's a client whose house merits a 25-Year Award because she's kept Kappe working on it for nearly that long. The house is so gorgeous, it's in constant demand as a backdrop for television commercials. Still, it's a work in perpetual progress. So, too, is Ray Kappe.
The Los Angeles-based architect has never been one to rest on laurels, even though his collection is ample. Among them are lifetime achievement awards for himself and 25-Year Awards for his house from both the American Institute of Architects California Council and AIA's Los Angeles Chapter. AIA National and the Association of Collegiate Schools of Architecture honored him with their Topaz Medallion for his work founding and directing the Southern California Institute of Architecture (SCI-Arc). And the walls of his [office] are chockablock with design awards. He certainly deserves to sit back and enjoy the accolades, and he fully intends to after he finishes these few projects on the boards. Yes, indeed.
Against type

Kappe started experimenting with housing in the early 1950s, the height of mid-century Modernism. Some architects of the time zeroed in on a style and proceeded to hone it over a lifetime, but Kappe has continued to experiment, always excited to try something new. That's why he eschews the label of Modernist. He doesn't wish to be pigeonholed by a word that now represents in the public mind a fixed period on the architectural timeline. He doesn't mind being called a modern architect, however, with that lower case "m" signifying an ongoing desire to try innovative ideas, technologies, and materials.
With his disdain for typecasting, Kappe hasn't attracted as much attention for his design work as some other Los Angeles-based architects have enjoyed. He's also designed largely in wood and has done a few pitched roofs, no-no's for some Modern purists. "Some of my clients wanted pitched roofs, so I experimented with long, low gables. And most of my clients didn't want steel," he says. Despite the trespasses, his houses are just as beautiful as those Case Study tours de force, perhaps even more so because they're far more livable. They marry Modernism's love of open floor plans, indoor-outdoor connections, and manipulations of space for dramatic effect with a deep respect for the site and the intimate relationship between human beings and their built environments. "You know, architecture doesn't have to do it all. The natural layer should show through too," he says.
After graduation from the University of California, Berkeley in 1951, Kappe cut his housing teeth working for the San Francisco firm of Anshen + Allen, a designer of Eichler houses, and Los Angeles-based architect Carl Maston, with whom he designed apartment buildings. But he soon hung out his shingle as a solo practitioner, eager to tap the post-World War II housing boom and its remarkable tolerance for new ideas. He settled in Sherman Oaks and built his first houses in the San Fernando Valley. They were open-plan, post-and-beam suburban houses designed to exploit Southern California's temperate climate. Bedrooms were small, with most square footage applied to living areas that opened to patios. "They were all about getting as much feeling of space as possible," he says. "As a kid, my mother would find me sitting in the open window of our apartment building. I've always sought out the edges, the views, and a feeling of expansiveness. That's the common denominator in my architecture."
Home schooling

Kappe has completed some 100 single-family houses over the years, but his tour de force is his own house in Pacific Palisades. Built in 1968, it's the best example of his strength as an architect: his ability to answer complex design problems with inventive, beautiful buildings. The biggest problems on the project were a steeply sloped site and a running stream. His answer was a series of six concrete tower supports and a bridgework of laminated beams. The house tiptoed over the site, sparing trees, stream, and the delicate beauty of the topography. "Developers at the time were cutting hills to make pads. I'd been working on the idea of a system of modules to get buildings above grade," he says. "Many of my houses ended up using this system because it required the least amount of foundation."
Throughout his career, Kappe has explored many avenues of interest to his inquisitive mind, all the while continuing his residential practice. He was especially drawn to urban planning and co-founded a collaborative, Kahn Kappe Lotery [Boccato] Architects Planners, to work on those projects and others. He taught design at the University of Southern California and in 1968 founded the architecture department at California Polytechnic State University at Pomona (Cal Poly). After a falling out with Cal Poly's administration three years later, he left with a few of his teachers, some of his students, and his wife, Shelly, also a teacher and his great partner in life, to start SCI-Arc. He directed the school—which quickly became famous for its free-thinking and freewheeling creativity—until 1987.
Somehow during his trailblazing work in architecture education, Kappe still found time to design houses. "I think it's easier to do a lot than a little," he explains. "You use your support better. And I always designed quickly. Houses were a great laboratory for experimenting with design and construction ideas." Over the years, he's employed and trained many SCI-Arc students who've gone on to make names for themselves, among them his sons Ron and Finn, both residential architects. And today he works on his own again, a one-man shop just as he was in 1953. "I'm no different in my mind than when I first started," he says. "I'm doing the kinds of things now I would have done 50 years ago. I feel like a 25-year-old."

CONTACT:
Ray Kappe, Kappe Architects/Planners
Phone: 310.459.7791; Email: raykappe@kappearc.com